Santa Suits & Costumes
Santa Suit Accessories
Christmas Costumes
Easter Costumes
Santa Suit Info
Santa Claus Info
Customer Service


The Velvet Mrs Santa Suit Costume is the professional Santa Outfit for Mrs Santa Claus. This Mrs Santa Suit is elegant enough for department store level appearances and should endure many Christmas seasons with the proper care.
Velvet Mrs Santa Suit Costume

Velvet dress with long faux rabbit fur collar, cuffs and trim. Zipper in the back.

Satin apron with lace trim and mop style Mrs Santa Claus hat with lace trim.
The color matches the Velvet Santa Suit and Majestic Santa Suit.



Size 8-10: 40" chest, 38" waist and 51" length.
Size 12-14: 44" chest, 42" waist and 53" length.
Size 16-18: 48" chest, 46" waist and 53" length.
Size 20-24: 52" chest, 54" waist and 53" length.
Buy
$169.99
SH7051-8, size 8-10
Buy
$169.99
SH7051-12, size 12-14
Buy
$179.99
SH7056, size 16-18
Buy
$179.99
SH7058, size 20-24
This Mrs Santa Outfit has a wonderful, soft velvet feel and rich authentic appearance. The Mrs Santa Claus wearing this costume will be comfortable hour after hour and will feel like Mrs Santa Claus herself. The Velvet Mrs Santa Outfit is the same color as the Velvet Mr Santa Suit, and very closely matches the color of the Majestic Santa Suit, appearing slightly darker due to the sheen of the fabric. This is a great companion outfit for the Majestic Santa Suit as shown in the pictures below.
Real Mrs Santas wearing the Velvet Mrs Santa Suit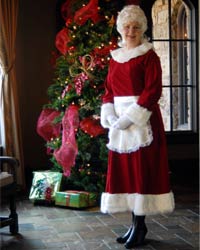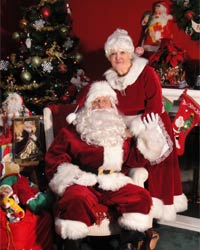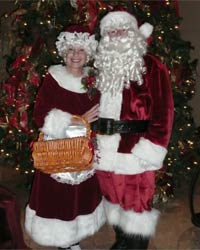 Mrs Santa Suit Accessories